Millions of South Africans receive social grants from the South African Social Security Agency (SASSA). The most common type of grant is the old age pension, which pays a monthly stipend to citizens who have reached retirement age. Other types of grants include child support, disability and care dependency, war veteran's pensions, and unemployment benefits.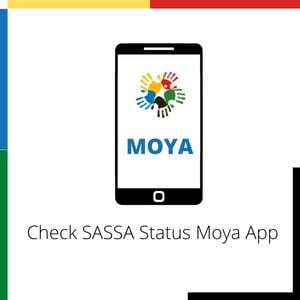 The SASSA Balance R350 application allows you to manage your SASSA payments without having to go through long queues or visit an office in person. With Moya app you can:
Know you SASSA status check
Apply for reconsideration or appeal using the new appeal platform (https://srd.dsd.gov.za)
Change payment options
Cancel srd grant
Apply for the grant
Can I Check my SASSA Balance on my phone?
The Moya app is a great way to manage your Sassa payments, and it's especially useful for the R350 grant.
The new South African Appeals platform (https://srd.dsd.gov.za) allows users to check their SRD status, apply for reconsideration or appeal, change payment options, cancel srd grant applications and even reapply for the grant itself.
Using Moya app for SASSA Payments
Follow these instructions to download your SASSA application
Install the app and follow (only Android System) the on screen prompts to configure the app.
It request for your mobile phone number to send an OTP code and submit the code.
Open the app
Click on the "Money and Services" section.
Click on the SASSA Relief button.
Choose the section that suits your needs.
What I do with Moya APP for SASSA
You can use the Moya app to check your SASSA SRD payment status.
You can also use to update your personal information.
You can also use to apply for reconsideration.
You can use to change payment option from default Post office to your preferred bank account.
Get your phone number and ID number handy as you need them for most of modules.
Usefull Links
⦁ SASSA Application: https://srd.sassa.gov.za/